---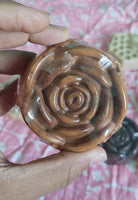 Kathuri Manjal is a fragrant variety of Turmeric that has amazing beauty benefits. It has wonderful anti-oxidant properties and it helps fight off free radical damage which is one of the reasons for the premature ageing of the skin and body.
INGREDIENTS: Shea butter, Kasthuri Turmeric , ChandanPowder, Glycerin,  Cedar wood essential oil.
Net weight: 80 grams 
**Discontinue if irritation occurs .It is Meant for external use only. Keep out of eyes and open Wounds. All Fleurparc  SavonSoaps are Handmade and individually wrapped with ingredient labels.