---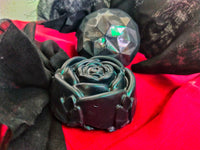 Charcoal Tea tree Magic Soap is detoxifying in Nature. It is suitable for Oily and Acne prone skin. Activated Charcoal is known to draw away excess sebum and impurities from skin. It deep cleanses pores and helps reduce blemishes, acne and brightens the skin. Tea tree, rosemary and peppermint oil have anti-septic and skin healing and cooling properties. This blend of fragrance has a deep therapeutic effect on your nerves.
Ingredients: Shea Butter Soap base, Glycerin, Activated Charcoal, Rosemary, Tea tree, Peppermint essential oil, Dried Rose petal for natural exfoliation.  
Net weight: 80 grams 
**Discontinue if irritation occurs .It is Meant for external use only. Keep out of eyes and open Wounds. All Fleurparc  SavonSoaps are Handmade and individually wrapped with ingredient labels.